Ultra-rich sports stars are about to change the money game: Athlete investor Patricof
Aaron Rodgers, Joe Burrow, Blake Griffin, Sloane Stephens and 200 other athletes team up with Patricof Co to invest their capital
Professional athletes have made more money than the average American for a long time, but their salaries have shot up big time in recent years.
The Green Bay Packers' Aaron Rodgers, for example, is the NFL's highest-paid player set to make nearly $60 million next season. Joe Burrow, the Cincinnati Bengals' young gun quarterback, signed a four-year $36 million deal. The NBA's Blake Griffin and tennis star Sloane Stephens all rake in millions each season – and share one unique thing in common.
They're clients of Patricof Co, the investment firm led by Mark Patricof, who wants to help these ultra-rich athletes change their capital game by picking smart stakes.
Recently, Patricof put some investments into Iowa farmland. Stocks and bonds are part of the athletes' portfolios as well, according to the founder, who also named stocks from hot sauce brand Cholula to SpaceX.
GROUP OF ATHLETES, INCLUDING BENGALS' JOE BURROW, BUCKS' KHRIS MIDDLETON, INVEST IN IOWA FARM
"What can we do to give these athletes the best shot to create value, long-term sustainable value out of their investment portfolio?" Patricof told FOX Business' Connell McShane last month. "We want our athletes to be deeply connected to the investments they make, so we don't take anyone's money on a deal unless they understand the investment unless they respond to it."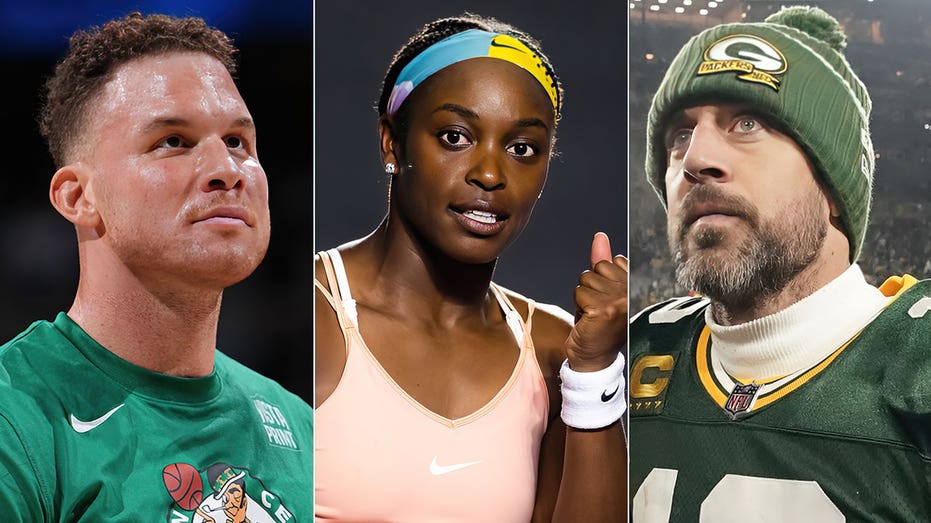 Griffin, a power forward and center for the Boston Celtics, explained how he picks investments and became interested in learning more about allocating capital.
"Do you like this product? Do you actually believe in the product? It's hard to get excited and get behind something and add value to something that you don't really care about," Griffin told McShane. "You hear the horror stories of guys spending all of their money – there was a documentary about all the guys who had gone broke three years after they were done playing, and those were terrifying to me."
He claimed his mom has always been fiscally responsible, and even joined in on Griffin's early financial meetings and negotiations as an NBA player.
"I was finally like, 'Okay mom, I got it from here,' but I appreciate that about my mom because she was looking out for me," he said.
Tennis pro Stephens' husband – American soccer player Jozy Altidore – gifted her a group of stocks for her most recent birthday, she also told McShane, which fostered a deeper interest for investing in companies she aligns with.
"It was all of my favorite companies, just a random amount of companies. My favorite place to eat is Potbelly, a sandwich shop, so it was Potbelly and Starbucks and McDonald's," Stephens said, which eventually inspired her to invest in the food brand Kodiak.
"Why not invest in something that I believe in?" the former Wimbledon and U.S. Open champ said. "And I think after meeting everyone at Kodiak and being on the advisory board there, just being able to have input and see where they're going with the brand, that takes it a level further."
JOE MONTANA SUPER BOWL JERSEY SELLS FOR OVER $1.2 MILLION, BREAKS RECORD SET BY TOM BRADY ITEM
Patricof predicted that one of his most widely recognized clients, 2020 NFL draft No. 1 first-round pick Joe Burrow, will become a billionaire someday. The best strategy for a young player with large contracts like Burrow is to "go slow," the founder advised.
"Blake was way down the road in knowing what he liked and didn't like, so it's quite different in some respects," Patricof noted. "But if you think about Joe Burrow today versus Dan Marino 30 years ago, Joe's going to be in a position to do anything he wants to do in the world, and he's got the brainpower to do it, so now it's just about teeing up the right opportunities."
That right opportunity, the Patricof co-founder pointed out, could one day be team ownership for his clients.
"I think if you love sports, understand the underlying value of sports, ownership is a natural place to progress. You saw the NBA completely shift in the last 20 years for the type of owners. Now they come from finance and technology," he explained. "The NFL's still a bit old world, and I think that will change again in the next 10 years, and we'll see a whole new variety of owners and they'll come from different fields, including sports."
When former New York Giants quarterback Eli Manning retired from the game, he earned more money than any NFL player in history. While he's not a client of Patricof, he recently clarified whether he'd explore team ownership someday.
"I really would only be interested in the New York Giants," Manning told McShane at a recent event in New York, "and I don't think they're going to be going for sale anytime soon, and I don't quite have the $6 billion that it would cost to buy them."
GET FOX BUSINESS ON THE GO BY CLICKING HERE
Patricof remains convinced other athletes, like Griffin or even a group of his clients, will be interested in becoming a professional sports team after eventually retiring to the sidelines.
"I think it's smart. It's what we know, it's what we've done our whole lives. So it goes back to the value add," Griffin said. "When you can invest in something like that and be a part of an ownership group, I think you bring an insight that not many ownership groups have. And I think people are more willing to bring you in on those deals."